Seasons Greetings!
The Yuletide is upon us! The crypto market may be intense this year but let's not forget the things in life that matter. Let's take this holiday season to relax and get into the Christmas spirit.
CoinGecko would like to get into the Christmas spirit by giving away something special this year. We are giving away limited edition CoinGecko Christmas themed ERC-721 Non-Fungible Tokens!
As a part of our experimentation in Non-Fungible Tokens (NFT), we are looking to see what we can #BUIDL in this space and we came out with these cute limited-edition Non-Fungible Geckos in Christmas attire!
Why are we releasing NFT?
One of the blockchain development that we have paid close attention to in 2018 is the rise of Non-Fungible Tokens. Together with Non-Fungible.com, we made a special segment on NFT in our 2018 Q3 Crypto Report.
If you are wondering what is NFT or even the concept of fungibility, here is a short explainer. Fungibility in tokens refers to the property where one token is identically replaceable with the other. Non-Fungible Tokens, on the other hand, represent a token class that is individually unique in nature and can be distinguished from each other.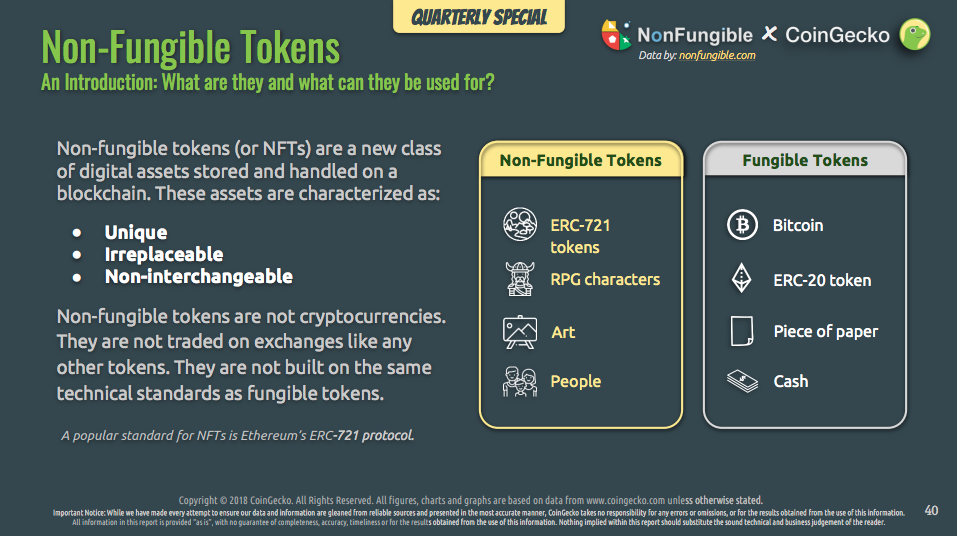 CoinGecko Christmas NFT
Since we find NFT very interesting over here, we wanted to mint some NFTs and share with our friends who understand Non-Fungible Tokens. We have designed our Gecko in 5 different Christmas poses this year. Presenting to you our Non-Fungible Geckos!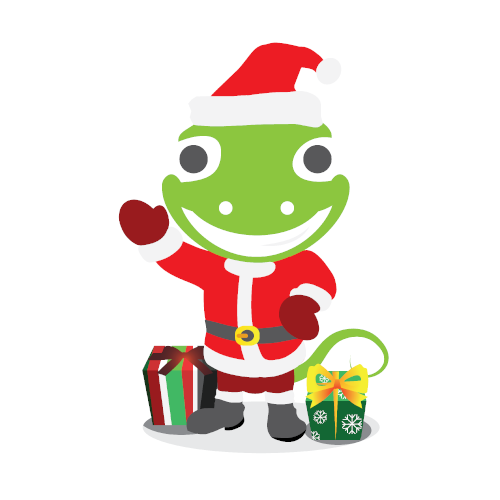 Santa Gecko
Ho! Ho! Ho! Were you naughty or nice this year? I know you wished for Ethereum priceto hit $1,000 again and wished that I can give that to you. Unfortunately, I can't do that and have prepared two small gifts for you instead. Merry Christmas!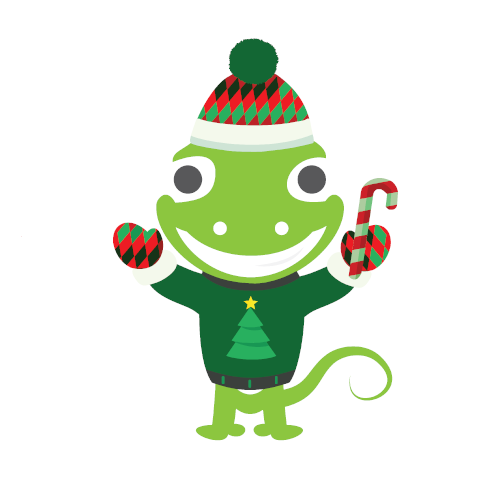 Little Timmy Gecko
Winter is here and I love my Christmas tree jumper! My beanie and mittens were hand-woven by mommy. She told me that we need to be grateful in life and be always happy. I don't have much to share but I have a candy cane here. Do you want it?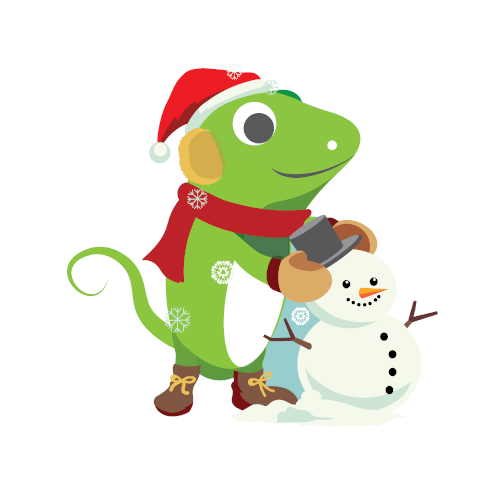 Snowman Gecko
I love making snowmen during the winter season. The biggest snowman I made was 2 meters tall! This is just a mini one and I am proud to put my dad's fedora on it. Hope you like the snowman!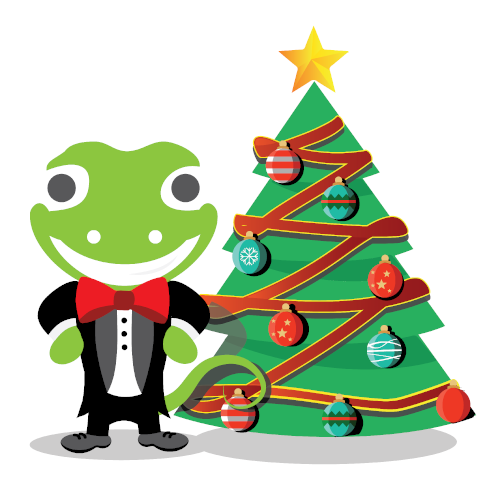 Dapper Gecko
One of our family traditions is to dress up and decorate our family Christmas tree together. Every year we draw lots to place a star on the Christmas tree. This year in 2018, I was the chosen one and I get to take a photo with the Christmas tree in my tuxedo and red bowtie.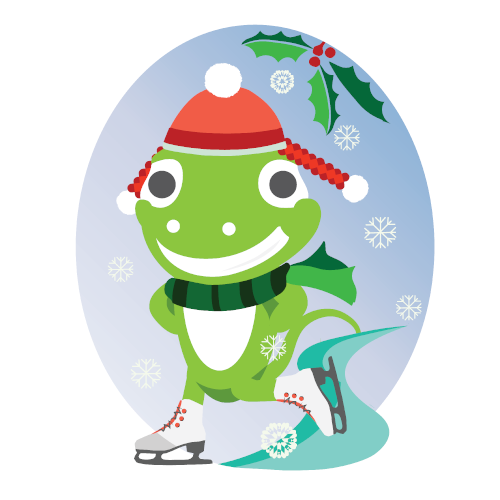 Ice-Skating Gecko
Who doesn't like to ice skate! Every year I wait for the pond to freeze over so I can ice-skate with my friends. It makes my heart run wild and I feel so free. I like how the world is my oyster and it presents so many opportunities for me!
Visit our 2018 Christmas NFT Microsite here and see our NFTs! https://xmas2018.coingecko.com/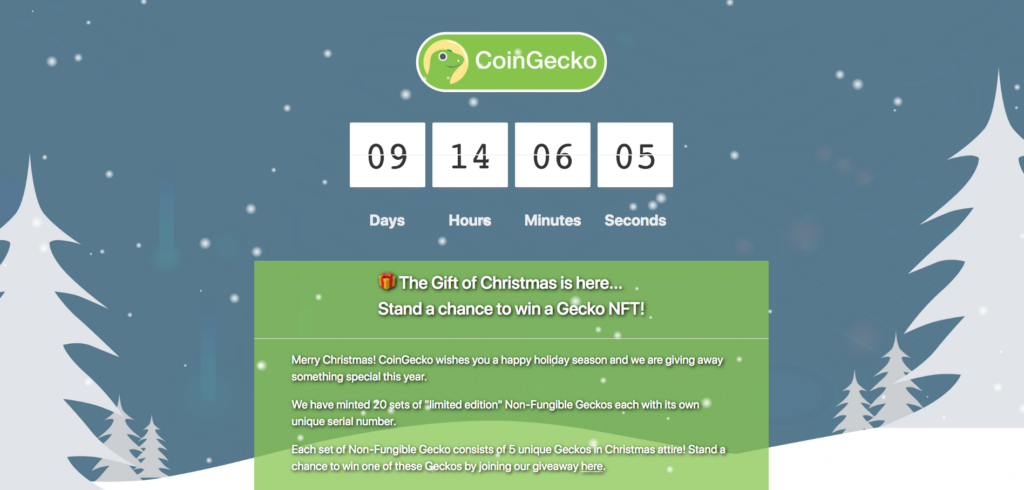 How to get CoinGecko Christmas NFT?
We have minted 20 sets of Non-Fungible Geckos each with its own unique serial number from 1 to 20. Each set of Non-Fungible Geckos contains the above 5 unique Gecko designs. There is a total of 20 x 5 = 100 Non-Fungible Geckos.
Since this is the first time we are deploying an NFT smart contract, we are giving away 16 sets of Non-Fungible Geckos totalling 80 Christmas Gecko NFT. We are afraid we may make some mistakes, therefore we are keeping 20 NFTs as a reserve in case something goes wrong when we are sending the NFT out.
To stand a chance to win one of these 80 CoinGecko Christmas NFT, answer the questions and complete the tasks here:
https://gleam.io/P4mWZ/coingecko-christmas-nft-giveaway
Entry closes 23 December 2018 at 23:59 GMT +8. Winners will be determined based on the most creative answers given. Winners will only get 1 of the 5 Non-Fungible Gecko designs and we will strive to give the preferred design.
We plan to transfer the 80 Non-Fungible Geckos on Christmas Eve, 24 December 2018.
Terms and Conditions
A person cannot be drawn more than once. By providing your email address, you agree to be subscribed to CoinGecko's daily newsletters. We will send the Non-Fungible Gecko to the ETH address provided. Kindly ensure that your Ethereum wallet supports ERC-721. CoinGecko is not responsible if you provided a wallet that does not support ERC-721.